Whoa, it's been a while since my last update. Like a month and a half! Much of that time was spent re-evaluating my attitude toward creating, and practicing a better perspective. Let's get into that more down below.
---
Life Update
Quite a lot has gone on since the last update. I've started a local art meetup, which has led to me meeting a few cool new people, as well as giving me a reason to get out of the house more. I've also started journaling and getting back into writing, albeit in small doses.
Ominous Doom Planet has also been put on hold for the time being. It's a lot to commit to a long-term project, and while I like the concept of it, I'm not the biggest fan of how it wasn't going anywhere yet.
I'm uncertain where I'm going to go with it in the future, but I do plan on returning to it. Perhaps it'll return as an intermittent series of flash fiction or very short stories. The poems were fun, but it just felt weird trying to produce something like that.
Which brings me to my next point: I'm doing art just for fun, exploration, and learning now. Creating a product is a great side-effect, but ultimately I'd rather keep this a hobby and not worry about marketing myself like a business. My need to work on my health comes first.
And now for the fun part:
---
Recent Art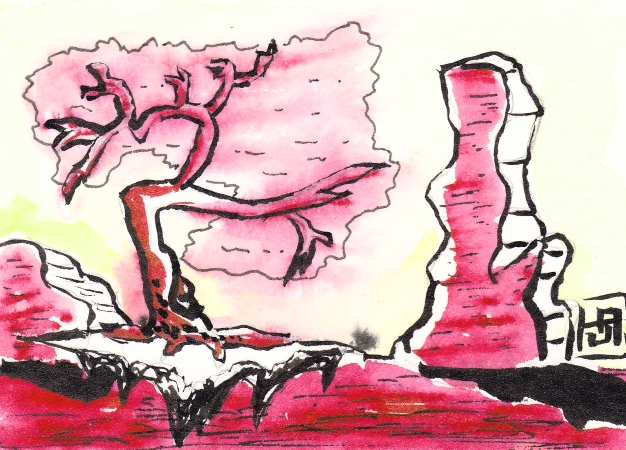 I've been doing these artist trading card doodles again. It's fun working in a small format. There's just something about a tiny piece of art that can fit in your pocket that really appeals to me.
Here's more of the ATC doodles I've done. I've been using this red brush pen I have, and blending the ink since it's not water resistant. It gets a cool effect, I've found.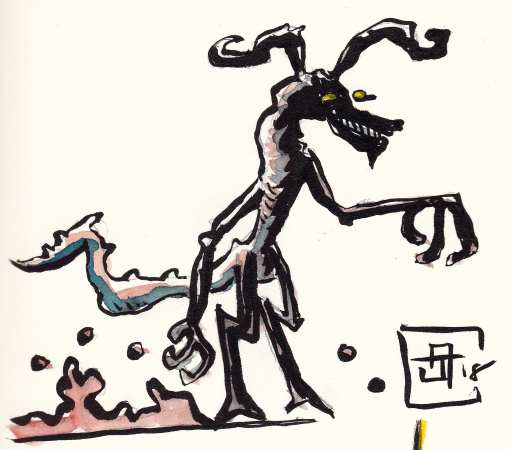 I've also done a couple monster studies/doodles, and here's the one I invented after messing around for a bit. Yay creepy dog-thing.
---
That sums up my last month of art! I hope you enjoyed this post. See you next time!
---
You can also connect with and support me at the links below:
Twitter: https://twitter.com/JankHambrams
Patreon: https://www.patreon.com/jankhambrams