Hello friends! It's been a while! I figured today's as good a time as any to dust off the past couple weeks of inactivity and let you all know what's going on.
I'll be honest, I've been in a hell of a creative funk lately. Making things hasn't felt satisfying or fulfilling like it used to, and I realized this is because my priorities shifted. I fell into the same trap I usually do: Trying to make it a job. Sticking to a schedule is a boon and a burden, tbh.
Considering this and other things, I've decided to start just posting my art and my thoughts on it, again. This way I'll have a log/diary of my work while also being able to share things with friends in a more deliberate manner.
Ominous Doom Planet isn't ending, either. I've stepped back to re-evaluate where I stand with it and consider a better way forward. I'm thinking it'll be more of an "as I feel like it" project, to keep it fun. The worst thing to do with a hobby is make it into work without it actually paying anything, after all. And I want to keep this fun.
Without further ado: Here's some art!
---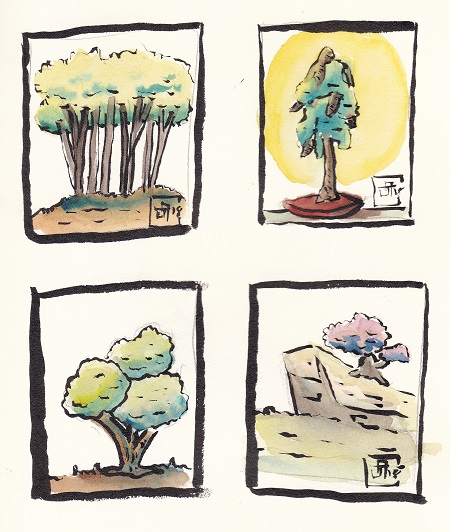 Here's some tree sketches I did at the coffee shop this past weekend. Overall I'm pleased with them — my color skills are still good, and trees are always fun to do. I feel I achieved better depth with them, too.
Now… the top-right one. I'm not happy that this weird, droopy bonsai I referenced came out looking like a poop tree. Definitely could've done really thin branches and captured it better, but so be it. They can't all be zingers.
---
That one scan is pretty much it for art these past few weeks. I've started writing flash fic again, too, but that's going to be held off for a while. I want to have something more substantial and a bit of a buffer before I start sharing all that again.
Same goes for poetry. That habit of sharing everything I make, immediately, has to go. So, maybe I'll have a poetry zine for sale soon. Maybe not. Who knows! This is my journey and I'm going to go at my own pace.
As always, thank you so much for reading. I'll see you next time! <3
---
Thank you for reading! I hope you enjoyed this post. You can connect with and support me at the links below:
Twitter: https://twitter.com/JankHambrams
Patreon: https://www.patreon.com/jankhambrams